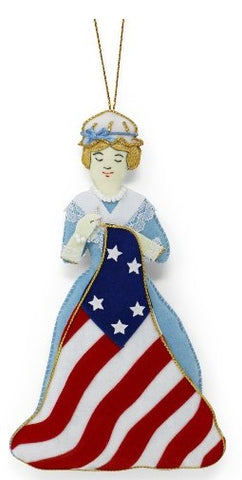 Betsy Ross Ornament
St. Nicolas is a heritage souvenir and Christmas decoration company based in London. All of their products are designed in-house and are completely handmade. The time taken to make each one is reflected in their unique quality.
For over 25 years, they have worked with a small Christian charity in Thailand that helps rural women find work in their community, rather than being forced to leave home to work in a factory. All of their historical figure decorations are made this way, as well as their numerous other designs. 
This Betsy Ross ornament shows her as she helps sew our nations flag.
---
We Also Recommend
The Best Store in the World
My daughter is a huge history buff and this is her favorite place to shop. Not only does she love that it is attached to an important historical landmark, but she loves all the products. This store has an impressive array of products, from amazing books to fun games to beautiful American Revolution memorabilia. She has often called it "The Best Store in the World" and is always excited to visit or get gift from it. I would recommend to other parents of history buffs, because it is simply a place that adds so much joy to her life. Thank you!
---